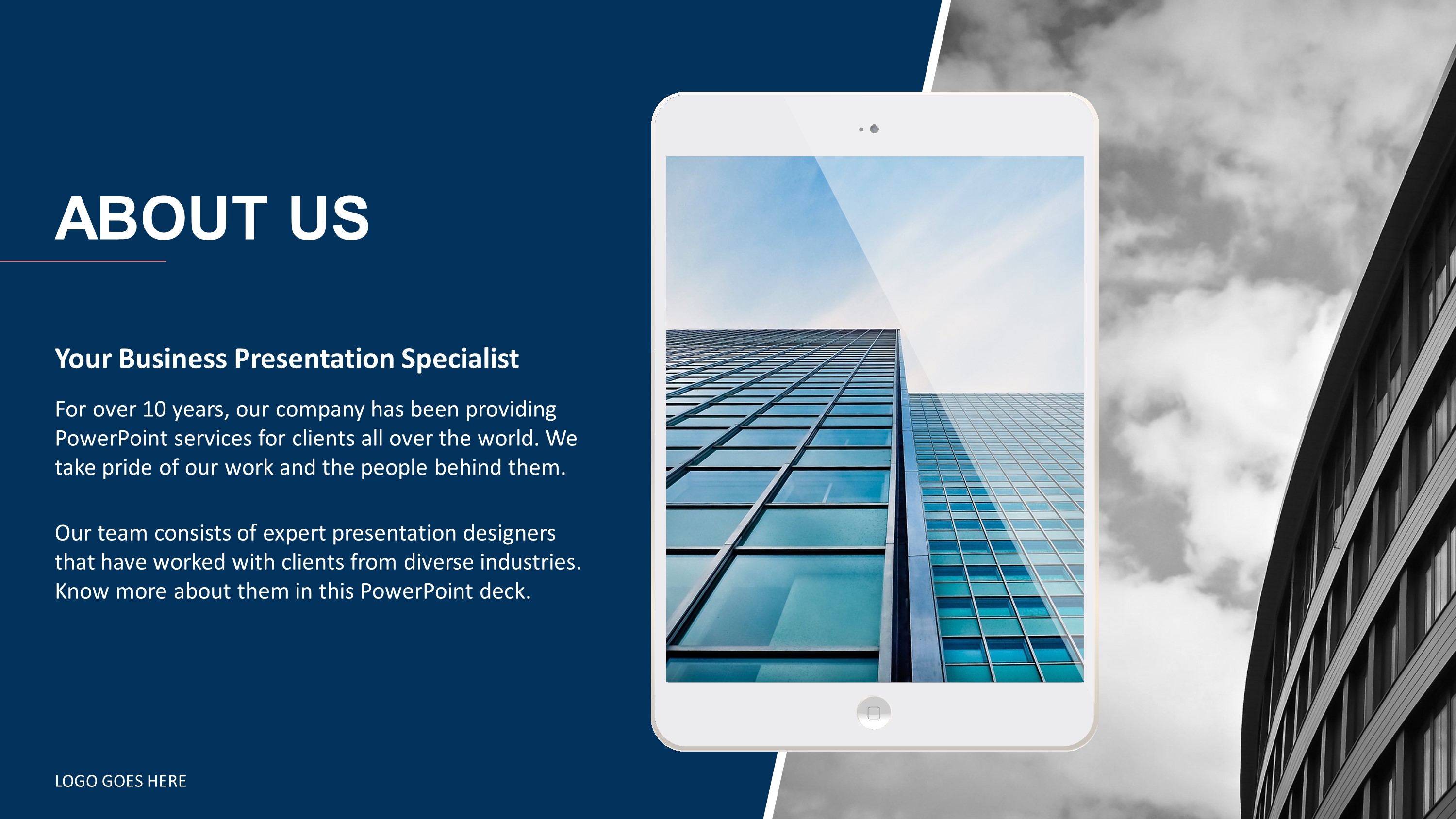 ---

5 SLIDES

Size: 16*9

Item ID: 2270


Fonts: Roboto Calibri

Supported Versions:
PowerPoint2010, PowerPoint2013, PowerPoint 2016

About Us
Your Business Presentation Specialist
For over 10 years our company has been providing PowerPoint services for clients all over the world We take pride of our work and the people behind them.
Our team consists of expert presentation designers that have worked with clients from diverse industries Know more about them in this PowerPoint deck.
Mission
Quality PPT Services
We aim to provide PowerPoint presentations that our clients can rely on Through the expertise and skill of our slide designers our PPT services stand out among the rest.
PowerPoint and Keynote Experts
We take the time to train PowerPoint and Keynote designers as to fully ensure the quality of our services.
Cost Efficient Slide Designs
We believe that quality work deserves a fair price As a presentation agency we only deliver value for money services.
Customized According to Your Need
We understand your need and the demand that comes with it which is why we accept by request and rush projects.
Competition
Leaders in Design
We are one of the top PowerPoint agencies in California for more than 10 years of service.
Beneficial for All
We don t provide meager presentations We provide presentations that our clients can earn and prosper from.
Our Team
Creative Director
Assures quality.
Our creative director ensures that all outsource PowerPoint decks are aligned with the concept of our clients.
Account Manager
Assures service.
Our account manager makes sure that all requests regarding our presentation services are met.
Senior Presentation Designer
Assures delivery.
Our senior presentation designer focuses on the overall look and feel of our PowerPoint presentations.